About Us
Yummy Yummy is a Chinese takeaway in Margate. Why don't you try our King Prawns with Green Peppers & Black Bean Sauce or Beef Chow Mein?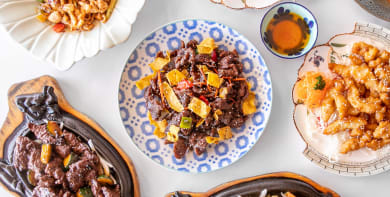 Reviews
495 reviews
Mac
"Absolutely delicious meals. I've even asked for a dish to be modified on a few occasions, and the restaurant was happy to help, which was brilliant!"
20/06/2021
John
"The food we ordered was of good quality and arrived on time and hot."
19/06/2021
Daniel
"Arrived on time. Food was hot and tasted lovely :)"
13/06/2021
Emma
"Very good food, my food turned up earlier than expected. I will definitely be ordering from here again. Excellent service and value for money."
12/06/2021
Menu
Aromatic Duck Quarter (6 Pancakes)
Served with pancakes, cucumber, spring onions & hoi sin sauce
£9.50
Aromatic Duck Half (12 Pancakes)
Served with pancakes, cucumber, spring onions & hoi sin sauce
£17.00
Aromatic Duck Whole (24 Pancakes)
Served with pancakes, cucumber, spring onions & hoi sin sauce
£29.00
Vegetarian Spring Rolls (8)
With sauce
£3.20
Spring Rolls (4)
With sauce
£3.20
Deep Fried Crab Claws (3)
£4.00
Deep Fried Won Ton
With sweet & sour sauce
£4.00
Deep Fried Crispy Duck Rolls (4)
£4.00
Spare Ribs with Chilli & Salt
£6.00
Mussels with Chilli & Salt
£6.00
Mussels with Green Peppers & Black Bean Sauce
£6.00
Mixed Hors D'Oeuvres
Spring rolls, sesame prawn, seaweed, fried won ton, spare ribs salt & chilli, chicken wing salt & chilli (with sweet & sour sauce)
£8.20
Grilled Meats Dumpling (6)
£4.60
Big Pancake Roll
With sauce
£3.00
Chicken & Sweet Corn Soup
£2.80
Crab Meat & Sweetcorn Soup
£2.80
Mushroom & Chicken Noodle Soup
£2.80
Mixed Vegetable & To Fu Soup
£2.80
Special Curry Small Portion
Hot
£5.00
Special Curry Regular
Hot
£6.00
King Prawn Curry Small Portion
Hot
£5.00
King Prawn Curry Regular
Hot
£6.00
Beef Curry Small Portion
Hot
£4.50
Chicken Curry Small Portion
Hot
£4.40
Chicken Curry Regular
Hot
£5.40
Mushroom Curry Small Portion
Hot
£3.80
Mushroom Curry Regular
Hot
£4.80
Mixed Veg. Curry Small Portion
Hot
£3.80
Mixed Veg. Curry Regular
Hot
£4.80
Sweet & Sour Chicken Balls (10) - Regular
£5.20
Sweet & Sour Chicken Balls (6) - Small Portion
£4.20
Sweet & Sour Chicken (Hong Kong Style) Small Portion
Hong Kong style
£4.20
Sweet & Sour Chicken (Hong Kong Style) Regular
Hong Kong style
£5.20
Sweet & Sour Prawn Balls (5) - Small Portion
£5.00
Sweet & Sour Prawn Balls (9) - Regular
£6.00
Sweet & Sour King Prawn (Hong Kong Style) Small Portion
Hong Kong style
£5.00
Sweet & Sour King Prawn (Hong Kong Style) Regular
Hong Kong style
£6.00
Sweet & Sour Pork (Hong Kong Style) Small Portion
Hong Kong style
£4.20
Sweet & Sour Pork (Hong Kong Style) Regular
Hong Kong style
£5.20
Sweet & Sour Pork Balls (10) - Regular
10
£5.10
Sweet & Sour Pork Balls (6) - Small Portion
£4.10
King Prawns with Green Peppers in Satay Sauce Small Portion
£5.00
King Prawns with Green Peppers in Satay Sauce Regular
£6.00
Beef with Green Peppers in Satay Sauce Small Portion
£4.50
Beef with Green Peppers in Satay Sauce Regular
£5.50
Chicken with Green Peppers in Satay Sauce Small Portion
£4.40
Chicken with Green Peppers in Satay Sauce Regular
£5.40
Chicken Satay on Skewers (3) Small Portion
£3.60
Chicken Satay on Skewers (3) Regular
£4.60
King Prawns Satay on Skewers (3) Small Portion
£4.20
King Prawns Satay on Skewers (3) Regular
£5.20
Roast Duck with Orange Sauce
£6.00
Roast Duck with Plum Sauce
£6.00
Roast Duck with Ginger & Spring Onions
£6.00
Roast Duck with Beansprouts
£6.00
Roast Duck with Green Pepper & Black Bean Sauce
£6.00
Roast Duck with Mushrooms
£6.00
Roast Duck in Chilli Sauce
£6.00
Roast Duck with Chinese Mushrooms & Bamboo Shoots
£6.00
Roast Duck with Mixed Vegetable
£6.00
Chicken in Capital Sauce Small Portion
£4.40
Chicken in Capital Sauce Regular Portion
£5.40
1/4 Roast Chicken with Chips & Gravy - Regular Portion
£5.50
Chicken Chinese Style Small Portion
£4.40
Chicken Chinese Style Regular Portion
£5.40
Salt & Pepper Chicken Small Portion
New
£4.80
Salt & Pepper Chicken Regular Portion
New
£5.80
Chicken with Pineapple Small Portion
£4.40
Chicken with Pineapple Regular Portion
£5.40
Deep Fried Chicken with Lemon Sauce Small Portion
£4.80
Deep Fried Chicken with Lemon Sauce Regular Portion
£5.80
Deep Fried Chicken with Orange Sauce Small Portion
£4.80
Deep Fried Chicken with Orange Sauce Regular Portion
£5.80
Chicken Wings with Chilli & Salt Small Portion
£4.40
Chicken Wings with Chilli & Salt Regular Portion
£5.40
Shredded Crispy Chicken in Chilli Sauce Small Portion
£4.80
Shredded Crispy Chicken in Chilli Sauce Regular Portion
£5.80
Shredded Crispy Chicken in Capital Sauce Small Portion
£4.80
Shredded Crispy Chicken in Capital Sauce Regular Portion
£5.80
Chicken in Yellow Bean Sauce Small Portion
£4.40
Chicken in Yellow Bean Sauce Regular Portion
£5.40
Kung Po Chicken Small Portion
£4.40
Kung Po Chicken Regular Portion
£5.40
Chicken with Green Peppers & Black Bean Sauce Small Portion
£4.40
Chicken with Green Peppers & Black Bean Sauce Regular Portion
£5.40
Chicken with Ginger & Spring Onions Small Portion
£4.40
Chicken with Ginger & Spring Onions Regular Portion
£5.40
Chicken Szechuan Style Small Portion
£4.40
Chicken Szechuan Style Regular Portion
£5.40
Chicken with Mushrooms Small Portion
£4.40
Chicken with Mushrooms Regular Portion
£5.40
Chicken with Mixed Vegetables Small Portion
£4.40
Chicken with Mixed Vegetables Regular Portion
£5.40
Chicken Chop Suey Small Portion
£4.40
Chicken Chop Suey Regular Portion
£5.40
Chicken in Chilli Sauce Small Portion
£4.40
Chicken in Chilli Sauce Regular Portion
£5.40
Chicken with Cashewnuts Small Portion
£4.40
Chicken with Cashewnuts Regular Portion
£5.40
Chicken with Chinese Mushrooms & Bamboo Shoots Small Portion
£4.40
Chicken with Chinese Mushrooms & Bamboo Shoots Regular Portion
£5.40
Chicken with Beansprout Small Portion
£4.40
Chicken with Beansprout Regular Portion
£5.40
Chicken in Black Pepper Sauce Small Portion
£4.40
Chicken in Black Pepper Sauce Regular Portion
£5.40
Shredded Crispy Beef in Capital Sauce Small Portion
£4.90
Shredded Crispy Beef in Capital Sauce Regular Portion
£5.90
Shredded Crispy Beef in Chilli Sauce Small Portion
£4.90
Shredded Crispy Beef in Chilli Sauce Regular Portion
£5.90
Beef with Green Peppers & Black Bean Sauce Small Portion
£4.50
Beef with Green Peppers & Black Bean Sauce Regular Portion
£5.50
Beef with Ginger & Spring Onions Small Portion
£4.50
Beef with Ginger & Spring Onions Regular Portion
£5.50
Beef with Mixed Vegetables Small Portion
£4.50
Beef with Mixed Vegetables Regular Portion
£5.50
Beef Chop Suey Small Portion
£4.50
Beef Chop Suey Regular Portion
£5.50
Beef in Black Pepper Sauce Small Portion
£4.50
Beef in Black Pepper Sauce Regular Portion
£5.50
Beef with Chinese Mushrooms & Bamboo Shoots Small Portion
£4.50
Beef with Chinese Mushrooms & Bamboo Shoots Regular Portion
£5.50
Beef with Mushrooms Small Portion
£4.50
Beef with Mushrooms Regular Portion
£5.50
Beef in Chilli Sauce Small Portion
£4.50
Beef in Chilli Sauce Regular Portion
£5.50
Beef Szechuan Style Small Portion
£4.50
Beef Szechuan Style Regular Portion
£5.50
Kung Po Beef Small Portion
£4.50
Kung Po Beef Regular Portion
£5.50
Beef with Beansprouts Small Portion
£4.50
Beef with Beansprouts Regular Portion
£5.50
Beef in Yellow Bean Sauce Small Portion
£4.50
Beef in Yellow Bean Sauce Regular Portion
£5.50
Beef in Oyster Sauce Small Portion
£4.50
Beef in Oyster Sauce Regular Portion
£5.50
Lamb with Green Peppers & Black Bean Sauce Small Portion
£5.00
Lamb with Green Peppers & Black Bean Sauce Regular Portion
£6.00
Lamb with Ginger & Spring Onions Small Portion
£5.00
Lamb with Ginger & Spring Onions Regular Portion
£6.00
Lamb in Chilli Sauce Small Portion
£5.00
Lamb in Chilli Sauce Regular Portion
£6.00
Lamb in Black Pepper Sauce Small Portion
£5.00
Lamb in Black Pepper Sauce Regular Portion
£6.00
Lamb Szechuan Style Small Portion
£5.00
Lamb Szechuan Style Regular Portion
£6.00
Lamb with Mushrooms Small Portion
£5.00
Lamb with Mushrooms Regular Portion
£6.00
Lamb with Chinese Mushrooms & Bamboo Shoots Small Portion
£5.00
Lamb with Chinese Mushrooms & Bamboo Shoots Regular Portion
£6.00
Roast Pork Chinese Style Small Portion
£4.40
Roast Pork Chinese Style Regular Portion
£5.40
Pork with Green Pepper & Black Bean Sauce Small Portion
£4.40
Pork with Green Pepper & Black Bean Sauce Regular Portion
£5.40
Pork with Ginger & Spring Onion Small Portion
£4.40
Pork with Ginger & Spring Onion Regular Portion
£5.40
Pork with Chinese Mushrooms & Bamboo Shoots Small Portion
£4.40
Pork with Chinese Mushrooms & Bamboo Shoots Regular Portion
£5.40
Pork with Cashew Nuts Small Portion
£4.40
Pork with Cashew Nuts Regular Portion
£5.40
Pork with Chilli Sauce Small Portion
£4.40
Pork with Chilli Sauce Regular Portion
£5.40
Pork with Mixed Vegetables Small Portion
£4.40
Pork with Mixed Vegetables Regular Portion
£5.40
Roast Pork Chop Suey Small Portion
£4.40
Roast Pork Chop Suey Regular Portion
£5.40
Pork Szechuan Style Small Portion
£4.40
Pork Szechuan Style Regular Portion
£5.40
Pork in Black Pepper Sauce Small Portion
£4.40
Pork in Black Pepper Sauce Regular Portion
£5.40
Special Mixed Meat Small Portion
£5.00
Special Mixed Meat Regular Portion
£6.00
Mixed Meat with Green Pepper & Black Bean Sauce Small Portion
£5.00
Mixed Meat with Green Pepper & Black Bean Sauce Regular Portion
£6.00
Mixed Meat Szechuan Style Small Portion
£5.00
Mixed Meat Szechuan Style Regular Portion
£6.00
Mixed Meat with Ginger & Spring Onions Small Portion
£5.00
Mixed Meat with Ginger & Spring Onions Regular Portion
£6.00
Mixed Meat with Chinese Mushrooms & Bamboo Shoot Small Portion
£5.00
Mixed Meat with Chinese Mushrooms & Bamboo Shoot Regular Portion
£6.00
Mixed Meat in Chilli Sauce Small Portion
£5.00
Mixed Meat in Chilli Sauce Regular Portion
£6.00
Mixed Meat with Cashew Nuts Small Portion
£5.00
Mixed Meat with Cashew Nuts Regular Portion
£6.00
Kung Po Mixed Meat Small Portion
£5.00
Kung Po Mixed Meat Regular Portion
£6.00
King Prawns in Black Pepper Sauce Small Portion
£5.00
King Prawns in Black Pepper Sauce Regular Portion
£6.00
King Prawns with Ginger & Spring Onions Small Portion
£5.00
King Prawns with Ginger & Spring Onions Regular Portion
£6.00
King Prawns in Szechuan Style Small Portion
£5.00
King Prawns in Szechuan Style Regular Portion
£6.00
King Prawns with Mixed Vegetables Small Portion
£5.00
King Prawns with Mixed Vegetables Regular Portion
£6.00
King Prawns in Chilli Sauce Small Portion
£5.00
King Prawns in Chilli Sauce Regular Portion
£6.00
King Prawns with Cashew Nuts Small Portion
£5.00
King Prawns with Cashew Nuts Regular Portion
£6.00
King Prawns with Chinese Mushrooms & Bamboo Shoo Small Portion
£5.00
King Prawns with Chinese Mushrooms & Bamboo Shoo Regular Portion
£6.00
King Prawns with Mushrooms Small Portion
£5.00
King Prawns with Mushrooms Regular Portion
£6.00
Kung Po King Prawns Small Portion
£5.00
Kung Po King Prawns Regular Portion
£6.00
King Prawns with Pineapple Small Portion
£5.00
King Prawns with Pineapple Regular Portion
£6.00
King Prawns with Green Peppers & Black Bean Sauc Small Portion
£5.00
King Prawns with Green Peppers & Black Bean Sauc Regular Portion
£6.00
King Prawns with Chilli & Salt Small Portion
£5.00
King Prawns with Chilli & Salt Regular Portion
£6.00
Squid with Green Peppers & Black Bean Sauce Small Portion
£5.00
Squid with Green Peppers & Black Bean Sauce Regular Portion
£6.00
Squid with Ginger & Spring Onions Small Portion
£5.00
Squid with Ginger & Spring Onions Regular Portion
£6.00
Squid Szechuan Style Small Portion
£5.00
Squid Szechuan Style Regular Portion
£6.00
Kung Po Squid Regular Portion
£5.00
Kung Po Squid Small Portion
£5.50
Squid in Chilli Sauce Small Portion
£5.00
Squid in Chilli Sauce Regular Portion
£6.00
Squid in Chilli & Salt Small Portion
£5.00
Squid in Chilli & Salt Regular Portion
£6.00
Squid with Chinese Mushrooms & Bamboo Shoots Small Portion
£5.00
Squid with Chinese Mushrooms & Bamboo Shoots Regular Portion
£6.00
Mixed Seafood Small Portion
£5.00
Mixed Seafood Regular Portion
£6.00
Mixed Seafood with Ginger & Spring Onions Small Portion
£5.00
Mixed Seafood with Ginger & Spring Onions Regular Portion
£6.00
Mixed Seafood Small Portion
£5.00
Mixed Seafood Regular Portion
£6.00
Mixed Seafood in Chilli Sauce Small Portion
£5.00
Mixed Seafood in Chilli Sauce Regular Portion
£6.00
Mixed Seafood with Cashew Nuts Small Portion
£5.00
Mixed Seafood with Cashew Nuts Regular Portion
£6.00
Kung Po Mixed Seafood Small Portion
£5.00
Kung Po Mixed Seafood Regular Portion
£6.00
Plain Foo Yung Small Portion
£3.80
Mushroom Foo Yung Small Portion
£4.00
Mushroom Foo Yung Regular
£5.00
Chicken Foo Young Small Portion
£4.40
Chicken Foo Young Regular
£5.40
King Prawn Foo Young Small Portion
£5.00
King Prawn Foo Young Regular
£6.00
House Special Foo Young Small Portion
£5.00
House Special Foo Young Regular
£6.00
Mixed Vegetables Small Portion
£3.70
Mixed Vegetables Regular Portion
£4.70
Fried Plain Mushrooms Small Portion
£3.70
Fried Plain Mushrooms Regular Portion
£4.70
Fried Plain Bean Sprouts Small Portion
£3.70
Fried Plain Bean Sprouts Regular Portion
£4.70
Stir Fried Mixed Vegetables in Chilli Sauce Small Portion
£3.70
Stir Fried Mixed Vegetables in Chilli Sauce Regular Portion
£4.70
Stir Fried Aubergine in Chilli Sauce Small Portion
£4.00
Stir Fried Aubergine in Chilli Sauce Regular Portion
£5.00
Bean Curd in Chilli Sauce Small Portion
£4.70
Bean Curd in Chilli Sauce Regular Portion
£5.70
Bean Curd with Green Pepper & Black Bean Sauce Small Portion
£4.70
Bean Curd with Green Pepper & Black Bean Sauce Regular Portion
£5.70
Kung Po Bean Curd Small Portion
£4.70
Kung Po Bean Curd Regular Portion
£5.70
Bean Curd in Oyster Sauce Small Portion
£4.70
Bean Curd in Oyster Sauce Regular Portion
£5.70
House Special Fried Rice Small Portion
£4.80
House Special Fried Rice Regular Portion
£5.80
Chicken Fried Rice Small Portion
£4.00
Chicken Fried Rice Regular Portion
£5.00
Mushroom Fried Rice Small Portion
£3.70
Mushroom Fried Rice Regular Portion
£4.70
Mixed Vegetables Fried Rice Small Portion
£3.70
Mixed Vegetables Fried Rice Regular Portion
£4.70
Beef Fried Rice Small Portion
£4.50
Beef Fried Rice Regular Portion
£5.50
Yeung Chow Fried Rice Small Portion
£4.50
Yeung Chow Fried Rice Regular Portion
£5.50
Singapore Fried Rice Regular Portion
£5.70
Singapore Fried Rice Small Portion
£6.70
King Prawn Fried Rice Small Portion
£4.80
King Prawn Fried Rice Regular Portion
£5.80
Roast Pork Fried Rice Small Portion
£4.20
Roast Pork Fried Rice Regular Portion
£5.20
Chicken Chow Mein Small Portion
£4.20
Chicken Chow Mein Regular Portion
£5.20
Mushroom Chow Mein Small Portion
£3.70
Mushroom Chow Mein Regular Portion
£4.70
Bean Sprout Chow Mein Small Portion
£3.00
Bean Sprout Chow Mein Regular Portion
£4.00
Mixed Vegetable Chow Mein Small Portion
£3.70
Mixed Vegetable Chow Mein Regular Portion
£4.70
Beef Chow Mein Small Portion
£4.50
Beef Chow Mein Regular Portion
£5.50
Roast Pork Chow Mein Small Portion
£4.20
Roast Pork Chow Mein Regular Portion
£5.20
King Prawn Chow Mein Small Portion
£4.80
King Prawn Chow Mein Regular Portion
£5.80
Roast Duck Chow Mein Small Portion
£4.80
Roast Duck Chow Mein Regular Portion
£5.80
Mixed Seafood Chow Mein Small Portion
£4.80
Mixed Seafood Chow Mein Regular Portion
£5.80
House Special Chow Mein Small Portion
£4.80
House Special Chow Mein Regular Portion
£5.80
Singapore Chow Mein Small Portion
£4.70
Singapore Chow Mein Regular Portion
£5.70
Singapore Vermicilli Small portion
£4.70
Singapore Vermicilli Regular portion
£5.70
Chicken Crispy Fried Noodles
£6.20
Beef Crispy Fried Noodles
£6.50
Roast Pork Crispy Fried Noodles
£6.50
King Prawn Crispy Fried Noodles
£7.00
Mixed Veg Crispy Fried Noodles
£6.00
House Special Crispy Fried Noodles
£7.00
Mixed Seafood Crispy Fried Noodles
£7.00
Set Meal for 1
Chicken sweetcorn soup
Spring roll
Choose one of chicken OR beef dishes
Fried rice OR boiled rice OR chips
£10.50
Set Meal for 2 (Min for 2)
Spring roll
Fried Wonton with sweet & sour sauce
Chicken with green pepper in black bean sauce
Sweet & sour chicken (Hong Kong style)
Shredded beef chilli (hot)
Fried rice
Banana fritter
£22.00
Set Meal For 3 (Min for 3)
Spring roll
Fried Wonton with sweet & sour sauce
Chicken & sweetcorn soup (3)
Sweet & sour chicken (Hong Kong style)
Shredded beef chilli
Pork with green pepper in satay sauce
King prawns with green pepper & black bean sauce
Fried rice (3)
Banana fritter
£34.00
Thai Tom Yum Soup (Chicken)
Hot
£3.50
Thai Tom Yum Soup (King Prawn)
Hot
£4.00
Thai Green Curry F. Vegetable
Hot
£5.40
Thai Green Curry A. Chicken
Hot
£5.70
Thai Green Curry C. Pork
Hot
£5.80
Thai Green Curry B. Beef
Hot
£6.00
Thai Green Curry D. Duck
Hot
£6.40
Thai Green Curry E. Prawn
Hot
£6.50
Thai Green Curry G. Bean Curd
Hot
£6.50
Thai Red Curry F. Vegetable
Hot
£5.40
Thai Red Curry A. Chicken
Hot
£5.70
Thai Red Curry C. Pork
Hot
£5.80
Thai Red Curry B. Beef
Hot
£6.00
Thai Red Curry D. Duck
Hot
£6.40
Thai Red Curry E. Prawn
Hot
£6.50
Thai Red Curry G. Bean Curd
Hot
£6.50
Thai Yellow Curry F. Vegetable
Hot
£5.40
Thai Yellow Curry A. Chicken
Hot
£5.70
Thai Yellow Curry C. Pork
Hot
£5.80
Thai Yellow Curry B. Beef
Hot
£6.00
Thai Yellow Curry D. Duck
Hot
£6.40
Thai Yellow Curry E. Prawn
Hot
£6.50
Thai Yellow Curry G. Bean Curd
Hot
£6.50
Thai Rice & Noodle B. Coconut Rice
£3.50
Thai Rice & Noodle C. Garlic Rice with Cashew Nuts
£3.50
Thai Rice & Noodle A. Thai Special Fried Rice
£7.50
Thai Rice & Noodle D. Thai Special Noodle
£7.50
Pad Thai F. Vegetable
Hot
£5.50
Pad Thai H. Bean Curd
Hot
£6.50
Thai King Prawn Rolls (6)
£5.80
Thai Vegetarian Spring Rolls (10)
With sauce
£4.20
Chicken with Honey Chilli Sauce
£5.80
Thai Tom Yum Soup (Chicken)
£3.50
Thai Tom Yum Soup (King Prawn)
£4.00
Contact Us
Find Us
61 Canterbury Road, Margate, CT95AS
We deliver to
CT10, CT11, CT12, CT7, CT8, CT9